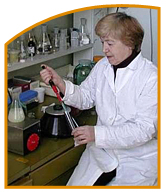 Our company boasts of a team of highly-experienced professionals in the R & D division. Our research team comprises senior engineers, technicians and chemists with vast industrial experience and technical know how of latest research methods and processes.
We give utmost importance in our manufacturing facilities and product development. As such we undergo adequate research work to produce the best product. In our quest to produce quality products with colors and flavors of relevance, we always try to incorporate innovative methods and techniques utilizing our advanced research results. Our R & D team has helped us in improving the quality and development of new products that can satisfy the different requirements of our customers and match industry standards. We have been able to produce colors and dyes that retain their inherent unique characteristics.
Objectives of our research team
To produce products at competitive prices.
Regular and consistent supplies.
Consistent improvement in quality.
Purity standards and
Continuous development of new products.
Our research laboratory is quite sophisticated with comprehensive range of test equipment like calibrate equipment and gauzes to ensure smooth process and quality of research. We spend a big share of our revenues to keep abreast with latest technology which has helped us to compete with the changing environment and ever increasing competition. The expansion of facilities is a continued part of our growth and commitment to providing quality products for our rapidly increasing client base.
Utilizing the strategies and plans developed by our research team, we have been successful in developing reliable networks in market and supply chain to ensure smooth and uninterrupted supply of our products.