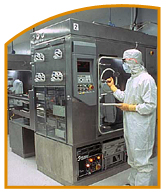 Our manufacturing facility is located 85kms from Mumbai, India. We have sophisticated manufacturing facilities, which help us to do the different activities and facets involved in our business. The facilities are spread across a sprawling campus of 20,000 sq. ft., build up area. We are proud to have the latest machines and technology in our facility to produce dyes, colors and flavors conforming to the international standards and requirements.
Some of the important features of our manufacturing facilities are:
Sophisticated quality testing equipment
Hygiene care for food colors and flavors
Material handling facilities
Sophisticated equipment for chemical processing
R & D facilities
Advanced instrumentation and process control facilities
Ever since our inception, our company has always tried to incorporate methods and manufacturing procedures of world renowned brands to improve our production facilities and quality of final products. We have now grown into a multi-manufacturing facility that can produce a wide range of products like natural food colors, synthetic food colors which include primary food colors, lake food colours, blended food colors and various other reactive and Pthalogen dyes. Our company's manufacturing capacity is 2500MT per year. We can accommodate anything from small-scale production to large-scale manufacturing. The products are manufactured with reliable quality assurance systems in strict compliance with industry standard and guidelines.
Our company has advanced automated facilities for spray dryers, tray dryers, spin fresh dryers, blenders and other related equipment required for manufacturing reactive dyes, pigment emulsions, acid dyes, direct dyes, solvent dyes, synthetic food colors, natural food colors, food color additives and a variety of flavors matching international standard and quality.
It is a known fact that innovation is the key to success and high performance. We at Rung International understand the importance of innovation and thus we give meticulous importance to R & D activities. This help us to keep pace with the changing environment and technology in dyes and food colors sector.