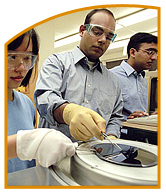 For the growth of any company, it is the manpower which plays a vital role. Rung International is proud to have a team of employees who work wholeheartedly for the growth of the company and also for their personal growth. The most valuable asset of the company is indeed our team of people and workforce. The team includes highly dedicated and experienced personnel, who are committed to produce products and services that can exceed customer expectations at all levels. Every member of team Rung International is full of talent, skill and creativity. The team has vast knowledge and experience of the color and dye industry.
The team includes
Two chemical engineers
Two production engineers
Three chemists
About 10 people in administration and back office
40 workers for production, packing and various other requirements.
Our team works in an open and informal culture and prime importance is given on values such as integrity, commitment, teamwork and excellence in customer service. We have adopted the policy of "Learning By Doing" which encourages the decision making ability in our people.
It is our continuous endeavor to regularly nurture the workforce by laying strong focus on their Training and Development. Regular training schedules are formulated to keep the staff abreast with changing marketing scenarios, technology and the requirements of our clients. To ensure the professional and personal growth and to keep the staff motivated and energetic, we organize guest lectures, psychology sessions and small family get-togethers time to time.